Matatagi Hayato
JP name
Unknown
Data
Gender
Position
Number
11
Element
Team
Shinsei Inazuma Japan (Galaxy)
Seiyuu
Debut
Game
Inazuma Eleven GO Galaxy
Anime
Galaxy episode 1
Matatagi Hayato (瞬木隼人) is a main character in the Inazuma Eleven GO Galaxy series and a forward for Shinsei Inazuma Japan (Galaxy).
Beast Power
Edit
It is known that he posses the Beast Power.His Beast Power is either a Falcon,either a Eagle.
Matatagi will most likely unite with his Beast Power.
Dark side
Edit
Matatagi has a Dark Side,which will be fully seen in the Galactic Tournament.Before that,only little parts were seen.While in his Dark Side,a part of his hair becames dark blue.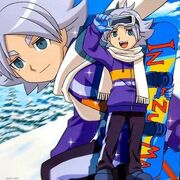 Personality
Edit
Matatagi seems a nice guy.But he has a Dark Side which transforms him completely.
Ad blocker interference detected!
Wikia is a free-to-use site that makes money from advertising. We have a modified experience for viewers using ad blockers

Wikia is not accessible if you've made further modifications. Remove the custom ad blocker rule(s) and the page will load as expected.