Matsukaze Tenma
JP name
Matsukaze Tenma
JP nickname
Tenma
Dub name
Orion Sherwind
Dub nickname
Orion
Data
Gender
Position


Number
8
Element
Team
Raimon (GO)
Chrono Storm
Shinsei Inazuma Japan (Galaxy)
Shinsei Inazuma Japan (Movie)
El Dorado Team 3
Seiyuu
Debut
Game
Inazuma Eleven 3 (Ogre)
Anime
Inazuma Eleven Episode 127

Inazuma Eleven 001 (GO)

Matsukaze Tenma
(松風天馬) is the captain of
Raimon (GO)
,
Chrono Storm
,
El Dorado Team 3
,
Shinsei Inazuma Japan (Galaxy)
and
Shinsei Inazuma Japan (Movie)
. He is the main character of the GO series.
Apparence
Edit
Tenma has brown hair followed by blue eyes.
Personnality
Edit
His personality is very much similar to Endou Mamoru. He is a courageous, and passionate soccer player. It is said by Aki that Tenma is just like Endou Mamoru.
Mixi Max
Edit
He is Mixi Maxing with King Arthur.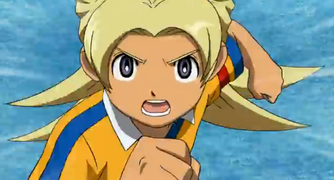 Inazuma Eleven GO
Edit
Inazuma Eleven GO 2: Chrono Stone
Edit
Inazuma Eleven GO Galaxy
Edit
Inazuma Eleven Strikers
Edit
Inazuma Eleven Strikers 2012 Xtreme
Edit
Inazuma Eleven GO Strikers 2013
Edit