Utsunomiya Toramaru
JP name
Dub name
Austin Hobbs
Data
Gender
Position
FW
Number
11
Element
Team
Inazuma Japan,Neo Raimon(Movie)
Seiyuu
Debut
Game
Anime
He is the youngest member of Inazuma Japan. At first he didn't want to shoot due to a problem during his childhood, when his teammates were jealous on him because he was the only one who was scoring goals.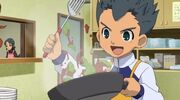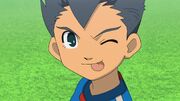 APPEARANCE
Edit
He has bluish black spiky hair with eyes of the same color.
PERSONALITY
Edit
He is shown to be a shy and intelligent person.
Ad blocker interference detected!
Wikia is a free-to-use site that makes money from advertising. We have a modified experience for viewers using ad blockers

Wikia is not accessible if you've made further modifications. Remove the custom ad blocker rule(s) and the page will load as expected.