Zanark is the coach for protocol Omega 3.0 He is then a FW and captain for Zanark DomainZan and Chrono Storm.He is also from 200 years in the future,as Fei Rune is. He was a villian at first,but he became a main character in Chrono Storm in the Ragnarok Tournament.
Mixi Max
Edit
He is Mixi Maxing with a hurricane,Clara Jane,and creates Super Zanark.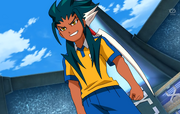 Ad blocker interference detected!
Wikia is a free-to-use site that makes money from advertising. We have a modified experience for viewers using ad blockers

Wikia is not accessible if you've made further modifications. Remove the custom ad blocker rule(s) and the page will load as expected.